Tulisan kali ini khusus buat teman-teman blogger yang menggunakan Microsoft(R) Windows 7 (TM) yang bukan ori punya, alias KW Punya alias bajakan, dengan catatan tulisan ini hanyalah dimaksudkan untuk tujuan edukasi semata, bukan untuk mengangkangi pihak-pihak terkait.
Baiklah kita masuk ke permasalahannya. Terkadang pengguna Win7 Non Ori (selanjutnya disebut Win7NO) tanpa sengaja melakukan update lewat koneksi internet karena settingan update pada Win7NO nya berada pada posisi Automatic. Atau lazimnya disebut Automatic Update ON. Banyak juga yang mematikan fitur Automatic Update dikarenakan cukup menyedot bandwidth internetnya. Namun saya tidak menyarankan untuk mematikan update karena update sangat penting untuk menjaga kondisi Win7NO kita tetap fit tanpa gangguan aplikasi. Saya lebih memilih untuk menyalakan windows update dengan settingan "Check for updates but let me choose whether to download and install them".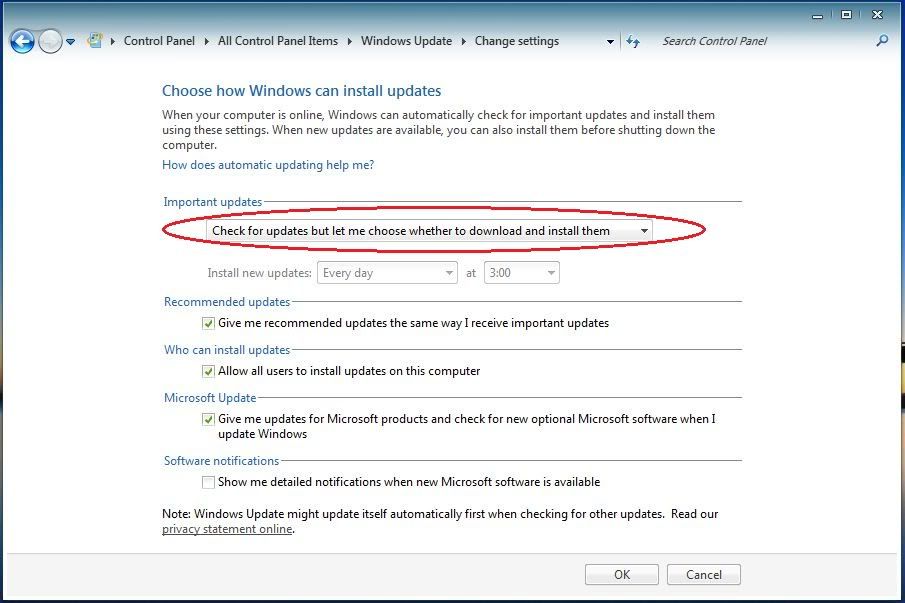 Apabila Update Windows dengan kode KB971033 tanpa sengaja sudah terinstall. Akibatnya, Win7NO Anda pastinya di flag atau ditandai sebagai software bajakan. Pada sudut kanan bawah akan keluar seri windowsnya dan ditandai dengan "not genuine". Untuk itu temans harus melakukan aktivasi windows kembali. Tentu saja karena ini Win7NO kita tidak akan bisa melakukan aktivasi.
Solusinya adalah dengan melakukan langkah-langkah sebagai berikut:
1. Masuklah ke Control Panel > Programs
2. Pada kolom sebelah kiri, klik View Installed Updates
3. Carilah baris Update for Windows 7 (KB971033), klik di baris tersebut dan klik uninstall.
4. Jika sudah ter-uninstall, tutup semua jendela dan kembali ke desktop.
5. Agar update KB971033 tidak terinstall kembali, bukalah Control Panel > Windows Update. Klik Important Updates Available. Kemudian klik kanan pada baris Update for Windows 7 (KB971033), kemudian pilih Hide Update. Klik OK, dan tutup semua jendela.
6. Klik Start > All Programs > Accessories — Klik kanan pada Command Prompt, dan klik Run as Administrator
7. Pada jendela Command Prompt, masukkan perintah "slmgr -rearm" (tanpa tanda kutip) kemudian tekan enter.
8. Tunggu sampai keluar pesan rearm sukses, kemudian reboot/restart windows.
Sampai di sini jika sukses, Anda bisa lihat bahwa tanda bahwa windows temans not genuine telah hilang. Temans tinggal melanjutkan dengan melakukan aktivasi windows 7 lewat program Windows Loader yang maaf tidak tersedia di sini. Untuk itu anda dapat mencarinya dengan bertanya kepada Mbah Google dengan keyword: Windows 7 loader v.1.8.6 by Daz
Saran saya, aktifkanlah Antivirus sebelum mendownloadnya. Dan download lah dari situs yang bisa temans percaya.
Sesungguhnya solusi terbaik adalah dengan menggunakan Software Asli, bukan bajakan. Atau jika tidak, gunakanlah Sistem Operasi Opensource semacam Ubuntu atau Linuxmint yang pengembangannya gratis dan memiliki komunitas yang luas di seluruh dunia.
Begitu saja, mudah-mudahan berhasil dan berguna.
ps. this post is for educational only.
any words of Microsoft (R) or Windows 7 (TM) is Company Trademark of Microsoft Corp.
Saran saia, aktifkanlah Antivirus sebelum mendownloadnya. Dan download lah dari situs yang bisa Anda percaya.
Begitu saja, mudah-mudahan berhasil dan berguna.