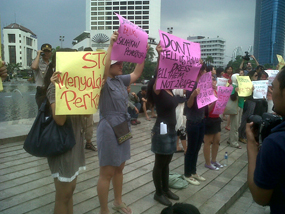 Jakarta
- Kasus pemerkosaan beberapa kali terjadi di Jakarta. Soal ini, kaum hawa yang gemar memakai rok mini enggan disalahkan jika pakaiannya memicu aksi pemerkosaan.
Puluhan perempuan dengan mengenakan rok mini menggelar aksi di Bundaran Hotel Indonesia, Jakarta Pusat, Minggu (18/9/2011). Aksi digelar mulai pukul 15.00 WIB. Hingga pukul 15.45 WIB, aksi masih berlangsung.
Mereka membawa poster dan spanduk besar dalam kegiatan yang cukup menyita perhatian pengguna jalan itu. Spanduk besar yang dibawa bertuliskan 'Jangan salahkan baju kami. Hukum si pemerkosa'. Poster yang diusung antara lain bertuliskan 'My rok is my right' dan 'Don't tell us how to dress. Tell them not to rape'.
"Jangan salahkan rok mini kami. Salahkan otaknya," ujar salah seorang orator.
Ucapan orator itu ditimpali oleh beberapa perserta aksi. "Yang mini bukan rok kami tapi otak kalian," teriak peserta.
Tak hanya mengenakan rok mini, beberapa dari mereka juga mengenakan kaos tanktop. Penampilan mereka dilengkapi dengan kalung dan topi. Anak-anak berusia sekitar 8 tahun pun ikut ambil bagian. Bocah-bocah itu memakai rok mini dipadu dengan stocking. Beberapa bule juga ikut serta dalam aksi.
Petugas kebersihan yang bertugas di sekitar Bundaran HI menghentikan aktivitasnya demi melihat aksi para demonstran. Pengendara kendaraan yang melintas pun melambatkan kendaraannya. Sementara itu puluhan polisi mengawal aksi tersebut.
" Sent from Smartfren Blackberry, Hebat Cepat Hemat "